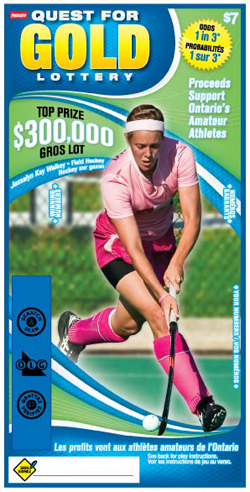 Everyone has a dream, and OLG is proud to continue to support Ontario athletes realize theirs.
The proceeds from our QUEST FOR GOLD LOTTERY, $10 million annually, are administered by the Ministry of Tourism, Culture and Sport to support athletes all across Ontario through financial assistance, enhanced coaching, enhanced training and competitive opportunities. Since QUEST FOR GOLD launched in 2006, over $83 million has been generated from lottery sales to assist approximately 4,000 unique Ontario athletes.
The majority of the Ontario athletes on Team Canada in the 2014 Sochi Olympic Games has been supported by Quest for Gold funding.
In the 2010 Commonwealth Games held in New Delhi, India, 40 of the 69 Ontario athletes who competed with Team Canada received Quest for Gold funding. Of the 21 medals won by Ontario athletes, 14 were won by Quest for Gold-funded athletes.
OLG is committed to continuing support to assist amateur athletes in Ontario.
Seventy per cent of proceeds go directly to athletes in the form of direct financial assistance, while the remaining 30 per cent supports enhanced coaching and provides enhanced competitive and training opportunities to athletes in amateur sport. For more information, including sport and athlete eligibility, visit the Quest for Gold website.
Vision
Ontarians acknowledge and support athletics as a sport important to individual and community health and fitness. The Q4G Athlete assistance program is provided by OLG. Administration is provided by the Ontario Government, Ministry of Tourism, Culture and Sport. The OAA as the Provincial Sport Organization for Archery works with the government to select athletes based on a Government approved selection criteria.
Purpose
The objects of Athletics Ontario are to:
promote physical, emotional and mental well-being;
promote athletics;
support and assist athletes in their development;
develop courses of instruction for/certification of coaches and officials; and
promote and ensure competent delivery of athlete-centre recreational and competitive athletics programs in Ontario through member clubs and athletics communities.
Values
Health and fitness through sports and throughout life; Commitment to excellence and the highest standards of performance by athletes at all age levels; Integrity, loyalty, fair play, sportsmanship, honesty, commitment, dedication, patience, mutual respect and cooperation; Inclusiveness, accessibility and affordability in participation; Individual development and measurable achievement encouraged by administrators, coaches, officials and staff committed to Athletics Ontario values; High ethical and moral standards and practices in athletics and the governance of athletics; and Prudent, transparent stewardship that demonstrates value for the investment of fiscal and human resources.
Mission Statement
Athletics Ontario's organizational mission is to:
develop, promote and ensure competent delivery of programs and competitions in athletics for the participant's enjoyment of the sport produce highly competitive provincial, national and international athletes; and contribute to the health, fitness, social development and well-being of all participants.
Athlete Selection