The London 2020 Ontario Summer Games is supported by the Government of Ontario, through its Games Ontario program started in 1970 in Etobicoke as a showcase for amateur sport. This is Ontario's largest multi-sport event, including both team and individual sports.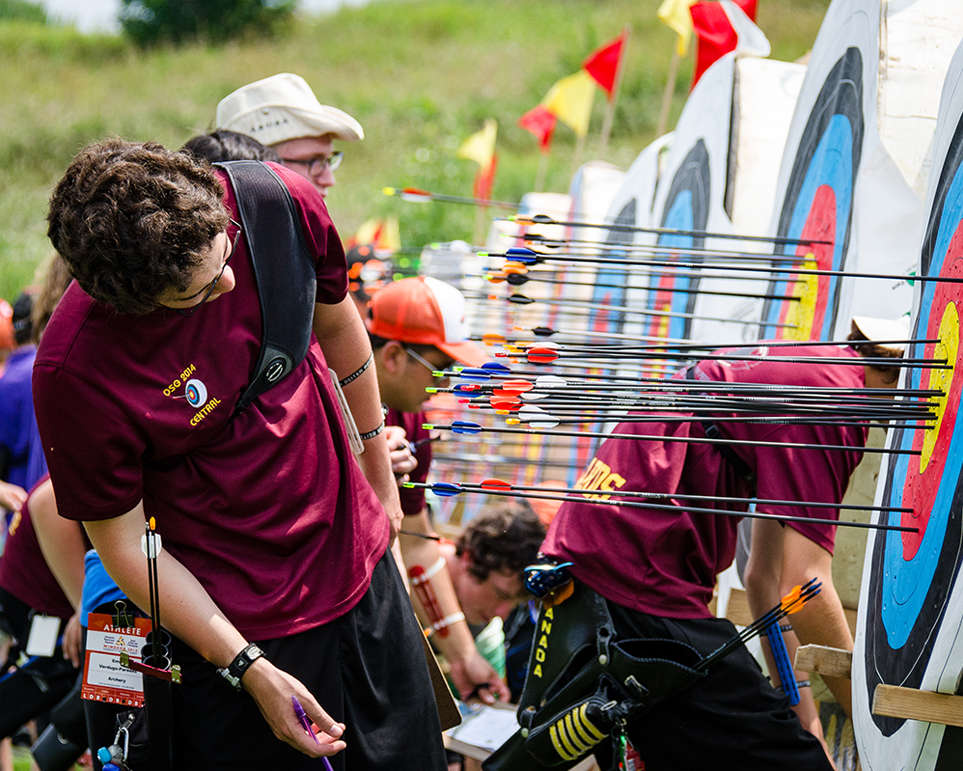 Who can participate?
Provincial level athletes in archery qualify through a regional selection process conducted by the Provincial Sport Organizations. The Games take place every two years and are awarded through a bidding process. They are supported by the Ontario Ministry of Tourism, Culture and Sport in collaboration with host communities.
What is the Archery Ontario regional selection process?
In total, 60 archers will be selected to compete at the multi-sport, mini-Olympic style Ontario Games. Each of Ontario's five zones (listed below) will build a team of archers to compete. Each zone will be made up of 12 archers, 6 male, and 6 female. Archers may compete in Recurve, or Compound divisions, under the age groups of Junior (20 and under) or Cadet (17 and under). One Zone Management Team (ZMT) will assist in registering, training, and accompanying archers to the tournament. The male and female ZMT will consist of 1 coach and 1 manager.
Zone Management Team members must have a valid and current Vulnerable Sector Check as per the Screening Policy which must be submitted to Archery Ontario office administration by April 1st, 2020 in order to select, accompany, coach & develop athletes. The Team Coach must have a valid coaching qualification (NCCP Instructor Beginner, former NCCP Level 1, NCCP Intermediate, or former NCCP Level 2).
ALL Athletes, coaches and team managers MUST have a valid and current Archery Ontario Membership.
For qualification, Archers must shoot at a minimum of two 720 rounds. All sanctioned events listed on the Archery Ontario website event list can be used as a qualifier. Archers can shoot a qualifier in any zone, however it is the responsibility of the archer to have their scorecard signed by a local club judge (at a min.) and forwarded to their Zone Management Team (ZMT).
The 720 qualification round is shot at the following distances
Recurve

60m for Cadet
70m for Junior

Compound
ALL Zone Management Teams must ensure the qualifying Scores of ALL their athletes are submitted to the Athlete Development Coordinator BEFORE Friday, June 26th, 2020 to be eligible. Upon selecting of team members, and no later than Jusly 1st, the ZMT will send an email to the athlete with the link for Online Registration to OSG.
What can I expect to pay as a registration fee for myself, as an athlete? Where do I register?
Athletes can expect to pay a tournament registration fee to participate in the games. In the past it was $60 however, this remains to be determined, based on the funding portion from the province. More information to follow.
This can be done on the Archery Ontario Website and a live link will be available in the Spring of 2020.
When are the games and what can I expect as a participant?
The 2020 Summer Games will be held in London, Ontario, July 30th to Aug. 2nd, 2020. Archers are provided meals and accommodations at Western University. Teams must provide their own uniform and may fund-raise to help offset this cost. Zone Management Teams (ZMT) coordinate and collaborate to organize safe and timely travel to and from London.
Archers who reside over a 300km distance from the host location and carpool are eligible for travel subsidy from the Games Committee. Often this takes a few months to be paid-out. More to follow on this.
During their time at the Games in London, athletes are expected to remain with the team at all times. A rooming list will be compiled by the ZMT and athletes will sleep in the dorms. Meals will be eaten as a team. Teams may visit other sports venues and attend events together, but athletes will remain together as a team, with their coach and manager.
Awards will be presented on both days of competition as well as Team Awards on Friday.
Competition Format
Friday (AM)
Friday (PM)

Zone Team Competition Event (more to follow)

Saturday

Double 720 with lunch break in between.
Compounds shoot 50m on 6 ring or 10 ring 80 cm face, (your preference must be stated on practice day and may be accommodated to the best of our ability).
Recurve shoot at 60m - Cadet, 70m - Junior on 122 cm face
Target Assignments will be peer grouped based on qualifying scores.

Sunday

Double Elimination
Number of Rounds will be determined by the number of athletes in a category
Compounds will do Match play and Recurve will do Set play.
Teams including athletes and support staff are expected to adhere to the Archery Ontario Policies and sign an athlete agreement.
More Details including what to bring, event schedule, opening ceremony, Thursday arrival time in London, Rooming List, etc. will follow once athletes have qualified for their zone team.
---
ZONE MANAGEMENT TEAMS LIST
(1 coach+1manager/1 each of female + male) will be updated once that information is made available from the Zone Directors.
Northwestern (NW) ex. Sault Ste Marie
Lana Perry

This email address is being protected from spambots. You need JavaScript enabled to view it.

 
Northeastern (NE) ex. Huntsville
Gord Shields

This email address is being protected from spambots. You need JavaScript enabled to view it.

 
Eastern (E) ex. Peterborough
Dave Watson

This email address is being protected from spambots. You need JavaScript enabled to view it.

 
Central (C) ex. Caledon
Katie Roth

This email address is being protected from spambots. You need JavaScript enabled to view it.

 
Western (W) ex. London-Windsor
Jason Stewart

This email address is being protected from spambots. You need JavaScript enabled to view it.

 
Inquiries can also be made to
Jess Watson

This email address is being protected from spambots. You need JavaScript enabled to view it.

 
OSG Website
https://www.london2020.ca
Archery Venue
Coming Soon