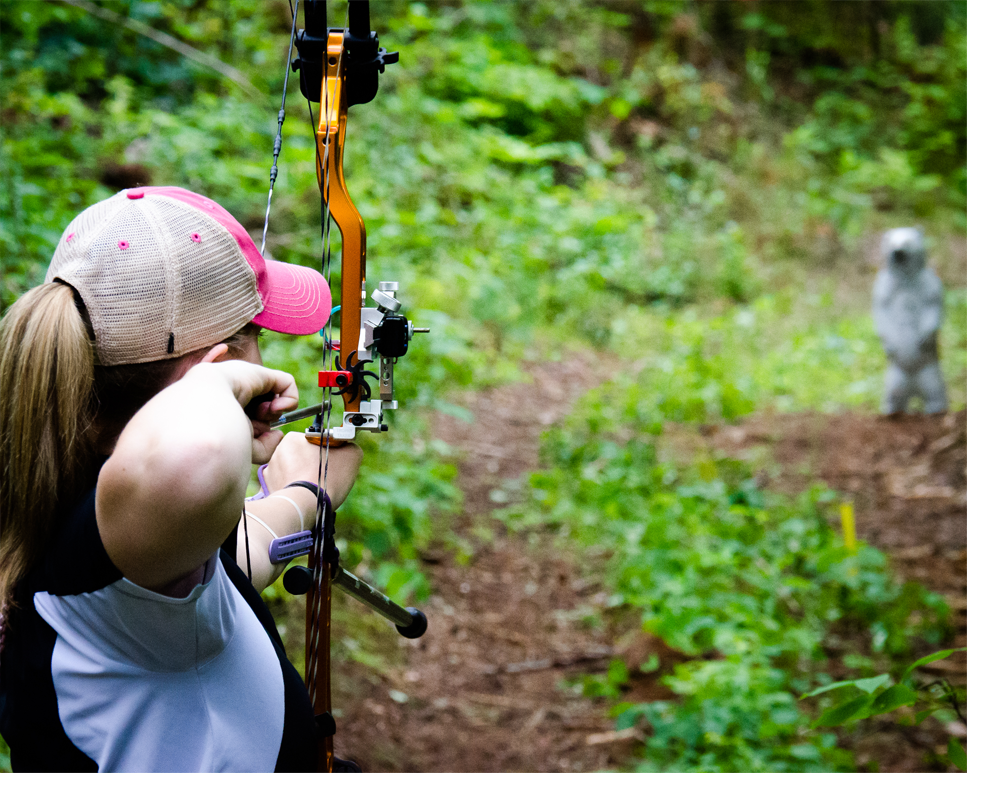 3D archery focuses on shooting at life-size models of game and is popular with hunters. It is most common to see unmarked distances in 3D archery, as the goal is to accurately recreate a hunting environment for competition.
Though the goal is hunting practice, hunting broadheads are not used, as they would tear up the foam targets too much. Normal target or field tips, of the same weight as the intended broadhead, are used instead.
In the past 20 years, 3D archery has taken new light with a competitive edge. There is a whole new group of competitions that are no longer considered hunting practices. Competitions are held around the world at local, Provincial, National, and International levels. Some competitors will travel thousands of miles a year to compete to try and claim the world title in 3D archery. This competitive style has been growing in many other countries and should continue with strong support for many years to come.
The major 3d archery groups are the IBO (International Bowhunting Organization) and the ASA (Archery Shooters Association) are primarily based in the Eastern United States. They each have different rules and scoring methods. The OAA uses has developed a set of rules that meet the needs of Ontario shooters, taking ideas from IBO, ASA, and WA rule books. Each class shoots at maximum yardages that vary by class, the maximum yardage for an OAA 3D shoot is 50yards.
The Ontario 3D Championships is a two-day event, consisting of 40 Targets shot on each day. The first day and Second Days will be Shotgun Start with groups peer grouped by Equipment Category on Day one and then my Score and Equipment Category on Day 2. 
---
2023 3D Championships
Date: June 24th  - 25th 
Day 1: Peer grouped by equipment - 930am shotgun start *
Day 2: Peer grouped by Day 1 results - 830am shotgun start *
Equipment Inspection is available Friday at 6 pm or Saturday at 8 am *
Archery Canada equipment categories *
* as per the 3D Advisory Committee recommendation
Location
Accommodations
For rooms contact the Comfort Inn @ 705-789-1701

3D Provincials

if you need a room we have 15 rooms blocked

https://www.choicehotels.com/reservations/groups/UH85T3
Discounted rate is $143.10 plus taxes   for this date only
I have 15 rooms in the block

 
Participant List
Registration
$75 Adult
$55 Youth
$160 Family
Registration will close on June 16th 
Prices subject to HST
---
AO membership is required to win championship medals and must be paid previous to event online. No walk-on's allowed.