Stephanie Barrett ties the Canadian Record at the Archery World Cup in Lausanne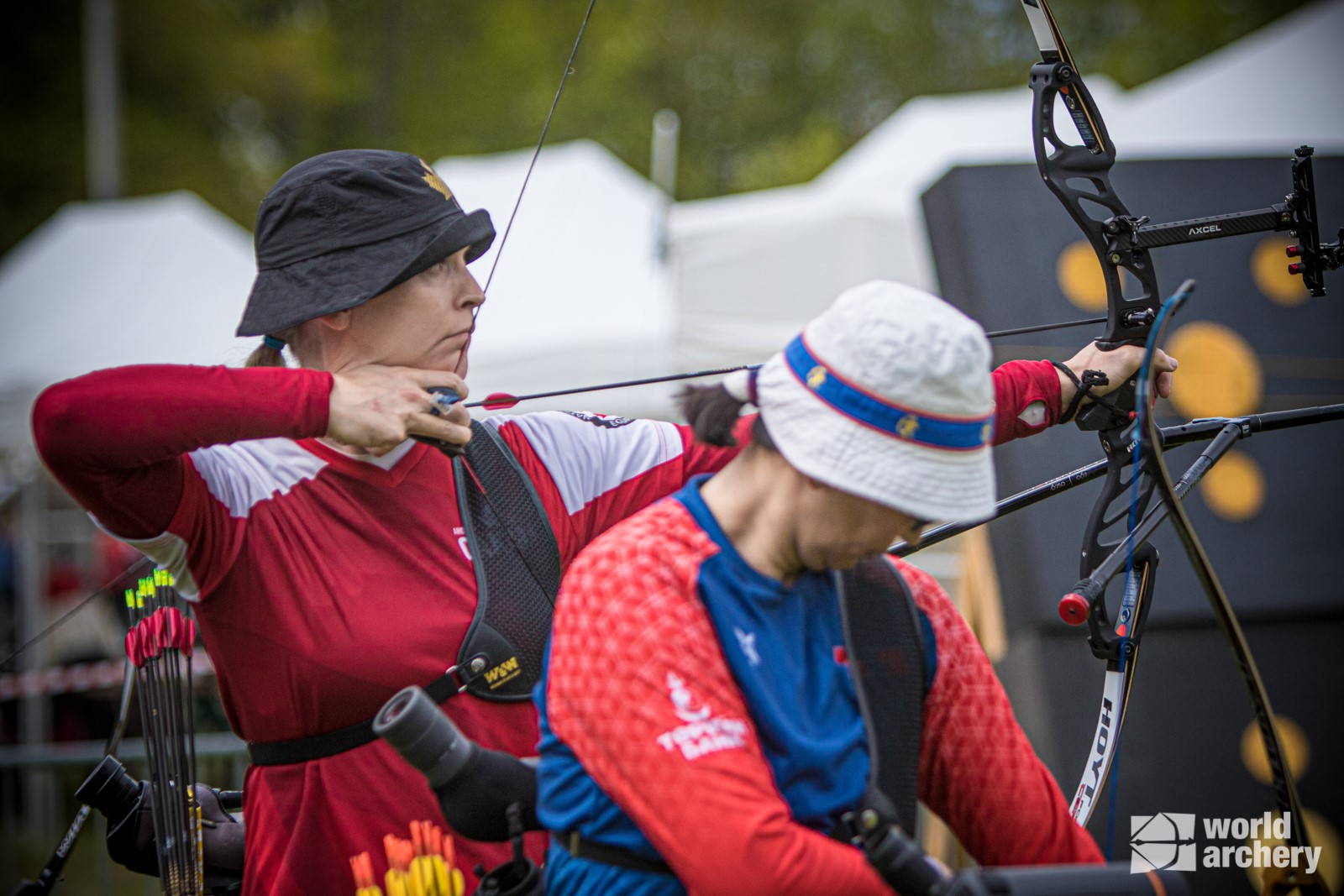 The second stage of the Hyundai Archery World Cup started today in the Olympic capital of Lausanne in Switzerland. Canada is attending with five recurve archers, Stephanie Barrett, Brain Maxwell, Crspin Duenas, Eric Peters and Conner Sorley - a small contingent given the ongoing challenges and restrictions on travelling due to the pandemic. It was in some ways a great start to the week.
With the qualification round taking place on the first day without rain in Lausanne Switzerland, Stephanie Barrett came out strong to tie the Canadian women's record, shooting the highest score ever by a Canadian woman in  international  competition, with a 652. Barret was rewarded with a 27th placing and a first round bye into the eliminations. With good conditions the top ranked women, Germany's Michelle Kroppen led the field with a 675. Barrett will return to compete in the second round of elimination on Wednesday afternoon local time. 
"Stephanie's performance today was excellent, delivering a result in line with the work she has put in," said Shawn Riggs, Recurve National Coach. "This is a solid indication that she is on the right path in her preparation for Tokyo." Final Archery Canada nominations to the Canadian Olympic Committee will be made following the Final Olympic Qualifier in late June.
In the men's competition, Brian Maxwell, also in 27th place in the Qualifications, led the Canadian team earning himself a bye through the first elimination round. He will face off against Germany's Felix Wieser on Wednesday morning. The remaining three Canadians also advanced to the first round of eliminations where Conner Sorley won his shoot off to move on to second round of eliminations, while Eric Peters convincingly won his match 7-1 with a 9.5 arrow average. Peters will face off against Daniel Pineda (COL) and Sorley against Steve Wijler (NED). Crispin Duenas lost 4-6 to Iranian Amin Pirali Najafabadi to be knocked out of the individual competition. The Men's Team of Duenas, Maxwell and Peters ranked 11th and are seeded to compete against Russia in their first elimination round on Friday morning.
Event schedule
Tuesday 18 May: Qualification
Wednesday 19 May: Eliminations
Thursday 20 May: Eliminations
Friday 21 May: Team eliminations
Saturday 22 May: Compound finals
Sunday 23 May: Recurve finals
How to watch
Coverage of the second stage of the Hyundai Archery World Cup is being shown worldwide by broadcast partners. The following sessions are being streamed on World Archery's YouTube channel and via the Olympic Channel in certain territories. 
Live scores will be available on the IANSEO website and there will be coverage on World Archery's digital platforms throughout the competition.